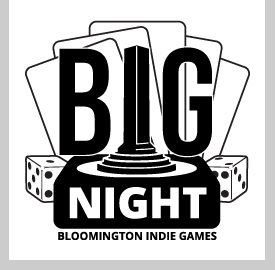 BIG Night is (usually) the second Thursday of every month
Franklin Hall, IU, Bloomington, IN 47405,IU Media School
Game Lab, Room 035
What is BIG Night?
It's Bloomington Independent Game Night! BIG Night is a monthly gathering of independent game designers and players from all around central Indiana. Come and see what games are being made in your area or show off your own projects! Games of all types (mobile, PC, board, card, etc.) and levels of polish are welcome.

Come on out the 2nd Thursday of every month!
---
Where is BIG Night?
The IU Media School Game Lab, room 035 in Franklin Hall. Enter the main doors, go across to the elevator, down one floor, and you're there!
---
Presented By

Sign up for our low traffic list to be notified about upcoming meetings and events
---
Aug 2021 - We're keeping a watch on the COVID situation, and will let you know if the next BIG Night will be in person or on Zoom. Sign up for the mailing list to be the first to know!
---
---
© Studio Cypher, LLP. All Rights Reserved.